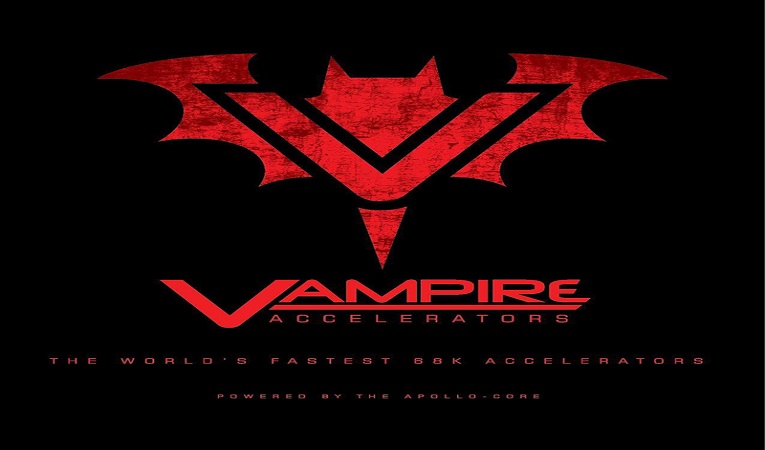 Reposted from the Apollo Forums. http://www.apollo-core.com/knowledge.php?b=1&note=35986&fbclid=IwAR2rfm9YwAVVEUGo3WgY2H-Oy7eVF9qmOP6NOLDAtFOQvPrzAC_E_zaaixM
"Apollo Team strives for long-term consistency, stability and harmony. Our single mission always was and always will be to revive the Amiga. Today Apollo Team announces the next level in our roadmap with the introduction of a future proof line-up of Amiga accelerator cards based on the powerful and robust V4 architecture.
Part of this new and exciting phase is a withdrawal of our high respected team member Igor and the reunion of the talented Thomas Hirsch (Mr. NATAMI) in our team."
A little Apollo history
Nearly six years have passed since we proudly shipped our first Apollo Vampire board. From that moment on our hardware portfolio has greatly evolved and the complete Apollo Team has worked with unlimited passion to bring up all the cards to the level of today. This progress has only been possible with the help of all our loyal and patient customers helping us with reporting bugs and improving the user experience.
In the year 2014 the Apollo Team created the compact V2-V600 together with Igor responsible for layout/production of the PCB and the rest of the Team in charge of the 68080 core, AMMX/SAGA chipsets, bus controller and drivers. In 2015 in the same constellation the now world famous V2-V500 was released which after several revisions over time in 2018 reached its final 2.3 version. In 2019 the revolutionary Vampire Standalone V4 was introduced, designed by Gunnar and Chris and manufactured by Apollo Computer. Finally in 2019 Igor started his production of the V1200 accelerator for Amiga 1200. With that accelerator finally the 68080 AMMX Core become accessible to 1200 users.
Since the beginning of this amazing journey all the Apollo products have generated significant interest from Amiga fans new and old, which makes us really happy and proud!
Igor has handled the production of the V2 accelerator cards since the beginning. He did the PCB design and worked closely together with the Apollo Team through many steps and improvements while producing those cards. The Apollo Core used in the FPGA for the Vampire Cards, designed by Gunnar, gave the V2 accelerators an unmatched performance. It was the combination of Igor's PCB, Gunnar's core, and the chipsets and software developed by the incredible and dedicated Apollo Team members that have made these cards a reality.
Initial accelerator card production was done solely by Igor, who produced boards by hand. The volume of production and sales was small, and so this volume was manageable. However during the last couple of years Igor has been unable to meet demand for the accelerator cards and this has resulted in a high-stress high-workload, which has taken a personal toll. Igor has now withdrawn himself from active participation in Apollo Team in recent weeks and we want to thank him deeply for his dedication and wish him all the best for the future.
With Igor's withdrawal, Apollo-Team has to change the roadmap for the recently announced Raptor accelerator, which was in joint development with Igor.
V2 End of Sale
The Vampire V2 line comes out of the Apollo Team product catalog. The C3 FPGA and corresponding components on the V2 family are overdue for quite some time now. Igor is currently selling his remaining PCB and FPGA stock. He will still assume warranties for the cards he sold.
There are significant amounts of backorders remaining for V2-500 and V2-1200. We fully understand that many of you have been waiting for an exceedingly long time on getting your hands on these cards.
So the Apollo Team is releasing the next-generation V4-based accelerator cards produced at scale in Germany to fulfill these orders. We want to say thank you for your patience, and we can now share details of these exciting new cards.
With honors to the Apollo V2 family now going end of sale we introduce our new family of accelerators based on the highly successful V4 Stand Alone computer, unifying the hardware architectures of the established premium 68k Amiga-compatible computer and accelerator cards.
V4 Family Introduction
Apollo Team proudly introduces the new V4-based Apollo FireBird (A-500/A1000/A2000) and IceDrake (A1200) with unique values:
Based on the proven powerful V4 architecture
High Quality German production, software and support
High Volume production; we will clear the all waiting lists very quick!
All components are future-proof and available
High-performance 512MB DDR3 memory
Additional features:
16bit Audio
2x IDE port for CF and CD-ROM
100 MBit Ethernet
USB Joypad support
C5 FPGA (V4) with twice the capacity of the C3 (V2)
Apollo Team is fully committed to support a highly requested feature for these new accelerator cards: output of the native Amiga screen modes over DIGITAL-VIDEO output. This will require substantial R&D and we will update you with progress when we have more details to share.
While we can disclose that the Apollo Team is already testing operational prototypes of the next-generation accelerators, the reality is that there is still development work to be done before they are ready for large scale commercial production. Fortunately, we can build on the high-quality production line already in place for the V4 cards in Germany, and thus guarantee rapid upscaling of manufacture when production gets underway in Q4 2021/Q1 2022. The Apollo FireBird will be available first, followed closely by Apollo IceDrake .
We wish to thank every one of our customers that have waited patiently for so long! Thank you for your dedication. We will revive Amiga together!
On behalf of the whole Apollo – Team,
Gunnar & Miri